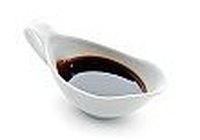 TGI Friday's makes that Jack Daniels sauce that is to die for - and now you can make it right in your very own kitchen! Here is how to make Jack Daniels sauce that you can use on chicken, steak, wings, or anything else:
(Yields approximately 1 cup of sauce)
Things You'll Need
1 teaspoon Onion Powder
1 tablespoon Tabasco Sauce (optional)
2 tablespoons Red Wine Vinegar
1/4 cup Jack Daniel's Whiskey
2 cups brown sugar
1/4 cup water
4 beef bouillon cubes
2 tablespoons Worcestershire sauce
Small sauce pan
Wooden spoon
In a small sauce pan, add in the liquid ingredients: ¼ cup of water, 2 tablespoons of red vinegar, 2 tablespoons of Worcestershire sauce, and if you like, Tabasco sauce. Tabasco gives the sauce a bit of a smoky kick, which some people might not like.
Put the sauce pan on the stove and turn the heat to medium. Stir well.
Add in the dry ingredients: 1 teaspoon onion powder, 2 cups of brown sugar, and 4 cubes of beef bouillon. Stir well to dissolve ingredients; it will take awhile for the sugar and the bullion to dissolve completely.
Bring the sauce to a boil for a few moments after the sugar has completely dissolved.
Bring the heat back down to a low simmer; allow the sauce to simmer for 15-20 minutes to cook off the alcohol in the whiskey.
Remove from heat and serve immediately. Don't allow the sauce for sit for too long, or it will develop a skin and may begin to harden. If this happens, pop the sauce in the microwave for 15 seconds to make it liquid again.