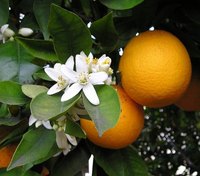 Orange trees fall victim to a wide array of diseases that can affect their roots, trunk and branches, foliage and fruit. The most common diseases affecting orange trees are fungus, viruses, mycoplasma diseases, nematode, and non-parasitic diseases. Each of these have few effective treatment options and usually require removal of the infected trees to prevent the spread of disease. Good orchard management practices using disease-resistant root stocks is one of the few ways to prevent these diseases.
Things You'll Need
Antifungal product like copper sulfate
Water
Clean sharp secateurs or loppers
New disease free root stock
Treat parasitic diseases such as fungi and mold by washing the tree several times a year with a fungicide such as copper sulfate. Diluted with water to the manufacturers specifications for your application size, it can control and prevent most common fungal problems endemic to citrus. Control any over-watering of the roots which may create or worsen fungal infections. Make sure the soil is well drained and moist with no standing water.
Clear virus or virus-like diseases such as citrus psorosis--one of the most damaging citrus tree pathogens in the world--by removing any trees with unexplained lesions on the trunk and stems or trees declining in vitality. How this spreads is not well understood but proximity and grafting is a factor. Scientists think it may also be transported by an insect such as aphids.
Treat mycoplasma diseases such as stubborn disease, which stunts and mishapes the growth of citrus leaves and fruits and which flares in high temperatures. Caused by the spiroplasma citri organisms there is no treatment for it yet. Infected trees should be removed and replaced with healthy trees that are propagated from stubborn-free budwood.
Clear up nematode diseases like citrus nematode in the tree, root and soil with Oxamyl (Vydate) diluted in irrigation water. Carefully follow instructions on the package and never use more than 4 quarts per acre in a 30-day period. When using this chemical, people should not enter the area without protective clothing, including masks. Also, planting or harvesting should be restricted according to guidelines outlined on the package.