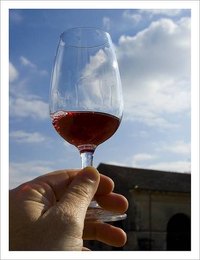 Chokecherries are widely available in North America, and with the proper materials, wine making is moderately easy. Chokecherry wine is recommended as a dry wine, but a little sweetener can be added to transform it into a semisweet, as long as the unique flavor of the chokecherries isn't covered up with sugar. This type of wine is appropriate for red meat dishes, as well as tart desserts. Learn how to make chokecherry wine by following these steps.
Things You'll Need
2 1/2 lbs. fresh wild chokecherries
2 1/2 lbs. finely granulated sugar
1 tsp. acid blend
1/2 tsp. pectic enzyme
1/4 tsp. grape tannin
7 pints water
1 tsp. yeast nutrient
1 crushed Campden tablet
1 pkg. Champagne or Sauterne wine yeast
Nylon straining bag
Primary fermenter (plastic is fine)
Two secondary fermenters, preferably glass jugs
Air lock
Siphon hose
Dark glass bottles for serving and/or storage
Prepare the chokecherries. Wash the fruit, and remove stems, leaves, and cherries that are badly bruised.

Mash the chokecherries. Place cherries in the nylon straining bag and mash with the hands, squeezing out juice in the primary fermenter. Do not break the pits. Keep all the pulp in the nylon straining bag, tie the top, and set the bag aside for now.
Add half the sugar, the remaining water, acid blend, tannin and crushed Campden tablet to the mashed fruit in the primary fermenter. Stir until the sugar is dissolved. Submerge the nylon straining bag in the fermenter with the mixture, cover, and let stand 12 hours (room temperature is fine).
Add pectic enzyme, and squeeze nylon bag to extract juice. Cover again, and allow the mixture to set for another 12 hours.
Stir in yeast nutrient and yeast, and squeeze the bag again to extract juice. Cover, and let it sit for seven days.
Extract as much juice as possible from the nylon bag and remove from mixture. Pour in the remaining sugar, and stir until it's dissolved. Pour the mixture into the secondary fermenter, and air-lock it. Allow it to sit for 30 days in a cool, dry place during fermentation.
Transfer the wine into a new secondary fermenter using the siphon hose. This is to rid the wine of extra sediment. Air-lock the mixture into the new secondary fermenter, and allow wine to sit for another two months. (Clean original secondary fermenter.)
Repeat step 7, and allow wine to ferment for six months before serving.