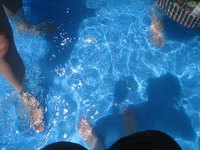 A small wading pool is an important summer addition to your home because it not only provides a way to keep your kids cool on a hot day but entertained too. While most wading pools are not large, it does not make sense to empty them each day because this wastes your time and money, not to mention your water resources. Therefore, you will need to learn how to sanitize the wading pool to prevent bacteria and algae growth that could pose a health risk to your kids.
Things You'll Need
Small wading pool
Small skimmer net
Household bleach
Small pool sanitizer
Tarp or small pool cover
Scrub brush
Set up your small wading pool in a desirable area away from harmful debris such as rocks and sticks which could puncture or harm the pool.
Fill your pool with water, and then add one cup of bleach. Circulate the bleach in the water by using the small skimmer net to stir. Wait at least 30 minutes before allowing your kids to play in it for the first time. Once playtime is done for the day, you are ready to start the sanitizing process.
Use the small skimmer net to remove grass, leaves and other debris from the pool. Also, remove any toys and other items.
Add small pool sanitizer to the wading pool, following manufacturer's directions. The sanitizer kills bacteria and controls algae growth.
Cover the wading pool with a tarp or small pool cover until the next use to prevent animals, leaves and other debris from contaminating the water.
Scrub the bottom and sides of the wading pool with the scrub brush after each subsequent use before adding the small pool sanitizer and covering with the tarp.
Add one cup of bleach every few days to help maintain cleanliness and water sanitation.