Things You'll Need
Acrylic additive

Acrylic gloss medium

Acrylic paints

Brushes

Mixing dishes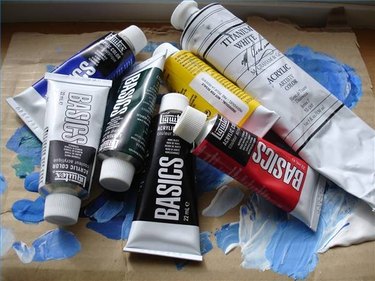 Using glaze can add a dimension of rich color to a painting like nothing else. This particular technique takes a bit of time, as the painter must wait for each layer of glaze to dry before applying a new one, but is well worth it. Making acrylic paint glaze is easier than one might think and any color glaze may be made.
Step 1
Prepare a clean dry mixing dish and pour into it about a quarter cup of the acrylic gloss medium. This can be bought at any art supply store.
Step 2
Add the acrylic additive also called a retarder. Just shy of a tablespoon will do. Mix it in smoothly with a Popsicle stick or brush.
Step 3
Add the acrylic color of your choice. Start by mixing in a small pea sized amount. If you wish it to be darker add as you wish.
Step 4
Multiply the recipe as necessary depending on how much glaze is needed. You may want to mix just a small amount at a time however if you will be working on your painting for short periods of time.
Step 5
Mix colors individually in a new clean dish with a clean brush. This way you may make several glaze colors while keeping them pure. Use a different (softer) brush to apply to the painting.
Tip
Add a few drops of water to the glaze to make it even thinner and smoother to apply.