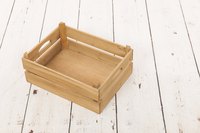 Milk crates are designed to carry milk containers from the dairy to retail outlets such as restaurants and grocery stores, but these humble boxes have become so popular that they are manufactured for a variety of uses. Beware of picking them up at a yard sale or seemingly discarded crates behind a retail establishment. If the crates are clearly marked as the property of a specific dairy, it is against the law to possess them and can result in a fine or jail time.
Go to the source. Visit a dairy farm to inquire about purchasing crates. Buying crates directly from the dairy is legal, and you may keep them without fear of the consequences of having crates specifically marked that have been sold or otherwise acquired without the dairy's permission. Get a receipt for proof of purchase.
Hit the mall. Retail stores that specialize in containers for storage and organization have milk crates for sale in a variety of styles, colors and materials. Office supply stores also feature milk crates in their storage solutions aisles.
Box it up. Big box stores carry milk crates, but the inventory is more limited than stores that specialize in storage containers.
Peruse online retail sites, both those of brick-and-mortar stores and the shops found only on the Internet. A simple search for "how to buy milk crates" will return many possibilities, giving you the opportunity to compare before purchasing.
Check out online auction sites where you will find new plastic crates as well as vintage wooden models.