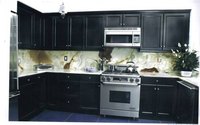 Want new countertops but can't afford the cost? Did you know that you can get the look of terrazzo countertops by tiling right over top of your existing counter? Yes it's true! And it's easier than you might think.
Things You'll Need
Terrazzo tiles
Tile spacers
Wet saw
Grout
Grout sealer
Thin set adhesive
Tape measure
Pencil
Palm sander
50-grit sandpaper
Invisible caulk
Prepare the countertops for tiling. Remove everything from the work area including the kitchen sink. You will also want to remove the backsplash if it is a laminate piece; if it is tile, it can stay.
Sand the entire countertop with a hand sander. This will help rough up the surface, which will help the thin set to adhere better to the countertop. Wipe away the residue with a damp cloth, then dry with a dry cloth.
Start at the sink area and begin tiling working towards the back of the countertop. Measure and cut tiles to fit in tight areas as needed with the wet saw. Apply thin set adhesive to each tile before laying it down on the surface. Give each tile a firm press to help it set thoroughly and place a tile spacer next to each tile as you lay them. Apply bull nose tiles around the edges to hide any cut tiles and to give the countertop a clean smooth edge. Let the tiles set overnight.
Mix the grout according to package directions. Mix only a small amount at a time, as the mortar sets quickly. The mixture should have a peanut butter consistency. Press the mixture firmly into the spaces between the tiles. Wipe away any access with a wet rag. Let the grout set for 24 hours, then apply sealer to each grout line.
Replace the sink and caulk around all of the edges to seal the tile so that water will not be able to get beneath the tiles. Apply caulk to the back of the countertop along the wall edge as well.