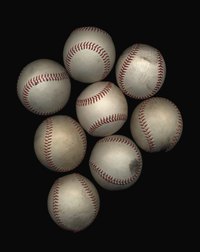 For sports-themed parties, banquets and big game celebrations, a sports centerpiece can add a spirited touch of decor. They are easy to make and fairly inexpensive.
Things You'll Need
Confetti
Sports balls of any size
Balloons
Ribbon or string
Scotch tape
Sprinkle confetti on the table or buffet. This works best if you place a plastic table cover first, and makes cleanup easier. Choose confetti in the team's colors, or, if it's available, buy confetti that is shaped liked sports balls. This is optional, but makes the centerpiece stand out more.
Find balls of different sizes. You can use regulation-size balls, miniature party favors or toys shaped like sports balls. The balls can also serve as party favors. Arrange them in the center of the table.
Fill team-colored balloons with helium. Attach each balloon to a piece of string or ribbon. If you want everything to look very coordinated, choose string or ribbon in the team's colors.
Attach one or two balloons to each sports ball. You could try tying them around the balls, but it is easiest to tape them down with good-quality Scotch tape. Make sure that you tape the balloons onto the underside of the balls so that the tape is hidden.
Alternatively, if you only have one ball, tie a bunch of balloons together. Tape the bunch of balloons to the underside of the ball. This works best for footballs, basketballs, soccer balls and other large sports balls. If you have only one smaller ball, such as a baseball, tape the bunch of balloons to the table and place the ball on top of where you place the tape.