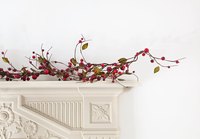 A wood mantel is the perfect topper to your elegant stone fireplace. But getting the mantel up onto the stone can be intimidating -- especially if you've never tried this sort of project before. But with the right supplies and equipment, it's less daunting than you think. Once you have clear direction on what to do, your newly revitalized fireplace will glow with the addition of its new, stately wooden mantel.
Things You'll Need
Measuring tape
Power drill
3/4-inch concrete bit
High-temperature epoxy
Template
Measuring tape
3/4-inch wood bit
Wood screws
7-inch by 3/4-inch threaded studs
Locate the area where you want your mantel. Check your local building codes for regulations. Most mantels should be 20 inches or higher from the top of the fireplace opening.
Determine where the fireplace flue is. Do not drill holes within 10 to 12 inches of the flue.
Drill 3-to-4 holes into the stone, depending on length of your mantel, using the concrete bit. Drill the holes 4 inches deep.
Fill the holes with a high-temperature epoxy. Place 7-inch-by-3/4-inch threaded studs into the holes.
Drill holes on the back side of the mantel with a 3/4-inch wood bit. Use a template or a measuring tape to line these holes up with the ones you drilled previously in the stone wall. Fill holes with high-temperature epoxy. As quickly as you can, attach the back of the mantel to the bolts that are sticking out from the stone. Push the mantel hard against the stone. Allow the epoxy to cure for 24 hours.