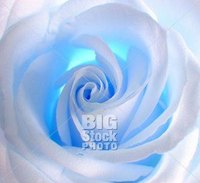 Though many plants declare to grow blue flowers, few really do. But one such true blue bloom is the Blue Girl rose. The Blue Girl is a hybrid tea rose. It is actually a silver, lilac-lavender color, yet it does turn gray-blue in color. The blue blooms are aromatic and have up to 40 petals. The single bloom of the Blue Girl rose blooms in mid-spring and blooms repeatedly. The Blue Girl rose bush grows to about 48 inches tall.
Things You'll Need
Gloves
Blue Girl rose bush
Add peat moss to the soil if your ground soil is heavy. Use a dehydrated cow manure or an organic compost.
Dig a large hole in the soil, making sure to space your Blue Girl roses at least 4 feet apart. This allows the roots plenty of room to spread out.
Plant the Blue Girl rose bush 1/2 inch under the soil. Make sure to spread out the roots within the hole before covering them. Do not bend the roots.
Make sure to grow the Blue Girl rose bush in full sun if you want the roses to be as true blue as possible. The sunshine fades the bloom's color so they appear more blue-gray than lavender.
Compact the soil around the plant's roots and water well. Add a rose plant fertilizer to the ground each month. Water the plants 1 inch per week, unless it is rainy season.
Cut the stem of a full bloom of the Blue Girl rose about 8 inches. Place the stem in a vase filled with a mixture of blue food coloring. The stem will absorb the blue water and turn the rose blue.