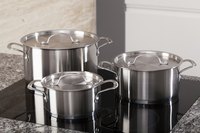 The joy you feel when opening a new piece of All-Clad cookware can turn to worry when you realize it'll get dirty after you use it. That shiny surface covered and heated in cooking liquid will never be the same. As your new purchase takes its place in the cupboard along with other well-used pots and pans, reality sets in. That expensive saucier, frying pan, wok or pasta pot isn't special any more -- until you clean it and the shine returns. All-Clad cookware can be brought back to its original gleam with some effort and the right cleansing solution.
Things You'll Need
Barkeeper's Friend cleansing powder
Sponge
Begin cleaning the pans with a sponge or soft cloth and a powdery cleaning product recommended by All-Clad, Bar Keeper's Friend. Whether you're cooking with the premium copper-core All-Clad collection or its best-selling stainless steel products, they all need cleaning after use. Rinse the cookware of all food particles, using warm water. Splash a bit of the very fine powder onto your kitchen counter and add a touch of water, creating a runny paste.
Dab the sponge or cloth into the paste and apply it to the interior surface of your stainless steel cookware. Using a circular motion, and moving from the center outward, rub gently until you've covered the entire bottom and sides of the pan. Do the same for the exterior surface.
Remnants of food build up around the rivets inside the pan. Use a toothbrush or kitchen brush to clean these particles away. Cooking oils also build on the outside of the pan and turn a chocolate brown color. The talc-fine Bar Keeper's Friend powder removes these spots with a gentle rubbing.
Dip the pan into warm, soapy water and rinse thoroughly. Do not leave a film. Dry your pan immediately with a dry, soft towel.