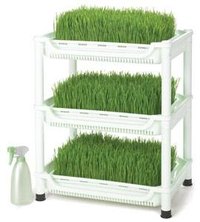 Wheatgrass is a natural detox agent and energizer, and you can eat it in grass or juice form. When fully grown it resembles tall grass, and cats enjoy it as a snack. Wheatgrass grows fairly fast and requires minimal upkeep. A flat of wheatgrass in your home can be practical, and also add some color and life to your kitchen or bathroom.
Things You'll Need
Wheatgrass seeds
House plant food
Peat moss
Place wheatgrass seeds on a tray with a small amount of water for six to 12 hours. This will encourage them to sprout.
If you don't notice your seeds sprouting, add a small amount of house plant food. This will increase the probability for all of the seeds to sprout.
Fill a tray or container with a 50/50 mix of soil and peat moss. The mix should be thin (1 1/2 to two inches deep).
Sprinkle the sprouted seeds into the container. Make sure the seeds don't overlap.
Cover the sprouted seeds with a thin layer of peat moss and water it. Peat moss is a beautiful covering, and it also provides your seeds with essential nutrients.
Harvest the wheatgrass when it reaches seven inches in height. The grass can be grown outside during the spring, summer and fall.