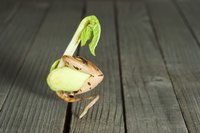 Pinto beans (Phaseolus vulgaris) will pretty much grow by themselves if you drop the seeds on the ground, but to get a reliable harvest, some basic preparation is a good idea. After amending the soil and planting, growing an abundant crop successfully requires weekly watering and basic weed control, along with lots of sunshine. Pinto beans are annual plants that grow best in areas with long, hot summers as they take three to five months to mature for harvest.
Things You'll Need
Grow pinto beans in full sun. Full sun means at least six hours of direct sunlight per day, but pinto beans can take all the sun you can provide. Pick the sunniest spot in the garden.
Select a site that drains well. Grow pinto beans in loamy soil for the best growth. Wet, muddy areas with standing water don't make good growing sites.
Fertilize before planting and then skip additional fertilizers during the growing season. Work 5-10-10 granular fertilizer into the top 6 inches of the planting bed prior to seeding. Use 1/2 cup for each 25 feet of growing area.
Space the bean seeds 2 to 4 inches apart in rows that are 2 to 3 feet apart. Plant the seeds 1 inch deep directly into the garden in spring when the soil warms to 55 degrees Fahrenheit or above.
Water once or twice a week, giving each plant 1 inch of water per week. During wet weather, keep a rain gauge near the garden and adjust your manual watering so that the plants get a total of 1 inch of water per week. Water pinto beans near the base of the plant, rather than spraying the leaves. If you are using a sprinkler system, water in the morning so that the plants can dry out during the day.
Pull out weeds by hand or use a hoe to dislodge weeds. If you use a tool, just barely scrape the top of the soil. Beans have shallow feeder roots that may be damaged by deep weeding practices.
Harvest pinto beans by cutting the pods from the plants with a clean pair of scissors in late summer when they turn from green to brown and become brittle and dry. Plan to harvest 90 to 150 days after planting.