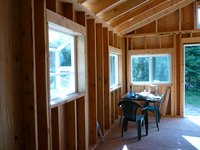 If you understand and have experience in basic building fundamentals, you may consider building your own frame house. Platform framing, a method that uses standard lumber to build on a foundation, doesn't require a shop full of elaborate tools, and can be mostly accomplished with standard hand and power tools. Attention to detail, accurate measuring and careful adherence to safety rules are critical.
Things You'll Need
Blueprints or plans
Building Permits
Backhoe (rental or hired)
Concrete and re-bar
Lumber
Saws
Measuring tools
Nails and screws
Hammer and screw gun
Roofing materials
Siding
Windows
Wire and electrical fittings
Plumbing and fixtures
Insulation
Sheetrock
Finishing products
From Plans to Paint
Purchase ready-made plans or have house plans drawn up. Consult your local building department to have the plans approved and acquire the necessary permits. You must abide by setback requirements, and all the regulations about hooking up to sewer, water and power, so make sure your plan meets all the requirements.
Purchase sufficient materials. Consult a building-reference book to calculate amounts needed.
Prepare the building site. It may need to be leveled, dug out, and have trees removed or protected.
Mark out the foundation dimensions, making sure it is square. Have a concrete foundation poured or block walls built to support your frame house. Be sure to include required venting and openings for water and sewer access.
Install floor joists across the foundation. Put on the sub-flooring. Now you have a platform on which to assemble walls.
Build the walls according to your blueprints. Assemble each wall flat on the platform and stand it up when complete. Secure each wall in place, making sure it is plumb and level. Secure the walls to each other and to the floor. Brace to temporarily hold in place as necessary.
Put on the roof rafters or trusses, and then roof sheeting. Cut openings needed for skylights and vents, and install them. Finish the roof with the roofing material you've chosen.
Sheathe the walls with plywood or the material of your choice. Cut holes for windows and doors, and install them.Your house is framed. It should be weather-tight and ready for the interior work to begin.
Run the wiring and the plumbing. Arrange for required inspections as you go. Install insulation, drywall (sheet rock), fixtures, cabinets and appliances. Paint and finish the interior as you desire.