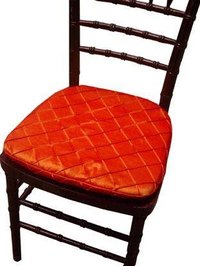 Chairs are used in homes, at work and at school. We sit on them to relax, to eat and to talk. Some chairs are soft and cushioned, while others are as hard as the tree the wood came from. Making a chair pad for your chair is an instant solution to your hard-seated chair.
Things You'll Need
Fabric
High-density foam, 2 inches thick
Scissors
Sewing machine
Straight pins
Iron
Newspaper
Marker or pencil
Take a sheet of newspaper and lay it on the seat of your chair. Hold it in place and gently rub the outline of the chair's edge through the newspaper, to create a slight crease. Continue around the chair's entire edge. This will help you keep it lined up as you follow Step 2.
With the newspaper in place, take your marker and trace the outline of the seat onto the newspaper. Remove the newspaper, and cut out the seat's shape. This is your pattern for the foam and the fabric.
Lay your foam on your work surface and place the newspaper pattern on top. Trace the outline of the pattern onto the foam with a marker. Remove the newspaper and cut the foam with your scissors.
Cut two strips of fabric measuring 4 1/2 inches by at least 24 inches, depending on the design of your chair. Lengthwise, fold over both rough edges of the fabric from the right side of the fabric toward the wrong side. It should be a 1/2-inch fold. Iron in place.
Fold over the two short ends, to make 1/2-inch folds. Iron in place.
Meet the two folded edges, lengthwise and wrong side together. Iron the fold flat. Pin the band edges together. Sew all three sides of the band. Trim away the excess thread.
Lay your pre-shrunk fabric on your work surface. Place the newspaper on top. Pin in place using the straight pins. Pin right through the newspaper. Cut the outline of the newspaper with a 1-inch gap between your cut line and the newspaper edge. This is to allow for the seam.

Fold the cushion tie straps in half, and along the back edge of the cushion cover, place the folded end of the strap between the two pieces of fabric. Pin in place, right at the point where the strap would meet the chair's backing. Remember to have the fabric with right sides facing each other. Repeat on the other side for the other strap.
Sew the fabric for the cushion together, starting on one of the cushion's sides. Sew all the way around, leaving a hole to insert the foam.
Turn the cushion cover inside out, and double check that the straps are in place.
Insert the foam, making sure to line up the right corners. Hand sew the cushion's opening closed. Cut away any strings and tie to your chair.