Things You'll Need
White plastic mask, or

Heavy construction paper, or

Recycled Halloween eye mask

Colorful feathers

Craft paint

Scissors

Sequins

Appliques

Hot glue gun

Spray paint

Ribbons

Hole punch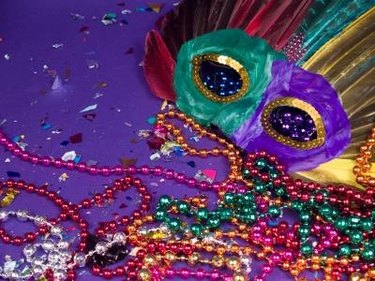 Mardi Gras masks are a necessary fashion accessory for Fat Tuesday float riders and rambunctious New Orleans party-goers. Before you take a festive stroll down Bourbon Street, attend an invitation-only party with your "krewe" or host a Mardi Gras-themed ball in your city, save a little money and make your very own authentic Mardi Gras mask. Here's how to make your own festive mask for Mardi Gras faster than you can say, "Laissez les bon temps rouler" (Let the good times roll!).
Step 1
Visit the MardiGrasCostumes' website (see Resources below) to find examples of authentic Mardi Gras masks that you can duplicate easily. If you are using heavy construction paper, print out an eye mask (see Resources) to use as a guide for your design. Cut out the mask. Before moving to the next step, place the mask over your eyes to ensure that your vision is not impaired.
Step 2
Place your supplies on a table, in a well-ventilated area. Spread a plastic cloth or old sheet onto a table. Place newspapers on top of the cloth or sheet to aid in quick cleanup and prevent damage to your table. Spread all of your art supplies, scissors, paint and ribbons on the table for easy access. Warm up your glue gun for a minimum of 7 to 10 minutes.
Step 3
Arrange your sequins and feathers on the mask first, before adding glue. If you need to spray-paint your mask, or add color to your construction paper with markers, let the mask dry a minimum of 4 hours before adding your decorations.
Step 4
Create the design you selected in Step 1. Add a small drop of glue to the feathers or beads and apply them to your mask. Be careful not to burn your fingers with the hot glue. Let your mask dry overnight.
Step 5
Add a ribbon tie to your mask. If you used construction paper to create your mask, punch two holes on the outer ends of the mask. Cut two strips of ribbon to tie the mask to your head. Both pieces of ribbon should be a minimum of 12 inches in length. Loop one end of your ribbon into each hole to secure the tie. If you are using a plastic mask, add a small drop of hot glue to the opposite ends of the mask to secure the ribbon.
Step 6
Let your mask dry for 24 hours. Lay your mask down, with the feathers and sequins facing upward, on a fresh piece of newspaper to dry.