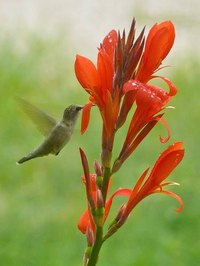 Cannas are exotic-looking flowers that are easy to grow, plus they bloom all summer long. Cannas are tall, tropical plants that come in many colors and grace many public gardens and zoos. It is simple to add some island-looking flare to your home with these low-maintenance plants.
Things You'll Need
Fertilizer
Mulch (optional)
Find a sunny location to plant your bulbs. Cannas love the sun.
Turn the soil over in the area you have chosen. Cannas perfer loose soil to grow in.
Plant the bulbs with the eye facing upwards. If you can't tell which end is which, just plant it horizontally and the plant will grow fine.
Space your bulbs 12 to 18 inches apart. Each one of your bulbs will produce 3 to 5 bulbs as is matures, so you will need room for them to spread out.
Water and fertilize your bulbs.
Cover your bulbs and lightly tamp the soil. Cover with about 1 to 2 inches of mulch to retain moisture, though this is optional.
Water once a week and make sure you water enough to give the roots a good soaking.
Fertilize once more during the growing season.