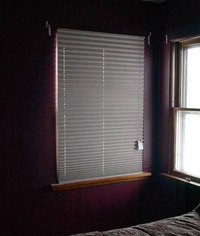 Updating a room by installing mini blinds, or blinds of any kind, is a quick and relatively simple process. With myriad styles and colors to choose from, you can create a new atmosphere without the hassle of a complete room makeover. To get the best fit and appearance, first you need to select the right size of blinds for your windows. Read on to find out how to properly measure for mini blinds.
Things You'll Need
Determine whether you will have inside- or outside-mounted blinds. Inside-mounted blinds are hung within the window frame, while outside-mounted blinds are hung on the wall or molding above the window.
Take measurements (width and height) in two to three places within the window space. Sometime windows are not perfectly square, and thus can affect the hang of inside-mounted blinds.
Measure width (top, bottom and center), and use the narrowest measurement when selecting inside-mounted blinds. Measure to the nearest 1/8 inch.
Measure width and add 3 to 5 inches per side for outside-mounted blinds. Adding the extra inches will ensure maximum privacy and and minimum light gaps.
Measure height. For inside-mounted blinds, measure from top of window to sill. For inside-mounted blinds, you will want to purchase blinds that are as close as possible in length to avoid bulk at the bottom of the blind. For outside-mounted blinds, the choice is mainly based upon appearance. If you have blemishes or flaws in the wall beneath the window, a longer blind could help hide them.
Measure window sill depth. This will determine whether the mini blind, when using an inside mounting, will hang flush with the window, and if you will be able to properly mount the bottom bracket. Depending upon the type of blind you wish to install, you'll need a sill depth anywhere from 1 1/2 inches to 4 3/4 inches to obtain a flush mounting.
Consider window cranks, tile and woodwork that may obstruct a clean hanging of the mini blind. You'll want to measure so that the blind will hang over and in front of the window crank. There are smaller window crank fixtures that will provide less bulk, and thus interfere less or not at all with the way the blind hangs.