Acknowledging basic design elements – such as focus, line and fillers – provides a creative foundation for floral arrangements. But visual beauty and balance aren't your only considerations. Natural floral fragrances add dimensions that extend beyond vision. Fragrances evoke memories, heighten experiences, impact moods and affect well-being. Like personal fragrances, floral fragrances deserve a selective, intentional hand. Pile on competing scents or leave them to chance, and your masterpiece may disappoint. Instead, create floral arrangements with focal fragrances and intended destinations in mind.
(LiliGraphie/iStock/Getty Images)
A surprising number of florist favorites offer little or no fragrance. When circumstances call for artistry without scent, a plentiful palette exists. Vivid ranunculus or anemones team up with tulips or lisianthus to bring scent-free elegance and simplicity to the fore. Even red, long-stemmed florist roses rarely carry any fragrance, as rose breeders sacrificed scent for refinement, vase life and form. Use this quality to advantage in cheerful bouquets for odor-sensitive friends or people recovering from illness. Fragrance-free arrangements also suit shared public spaces and personal work areas where strong scents at close range may distract instead of please.
val_th/iStock/Getty Images
Old-fashioned, garden-style roses retain the fragrances many modern types lost. Creamy white roses often bring arrangements delicate hints of vanilla, and muted cinnamon notes may accompany pink blooms. Small spray roses offer understated aromas that lend themselves to peaceful, private rooms. Use garden roses with or without adornment. Mass them solo, or sweeten your bouquets with comforting companions. Faintly fragrant sweet peas offer subtle scents without intrusion. Sprigs of lavender mixed with roses deliver relaxing aromatherapy in a vase – perfectly suited for nightstand nosegays. Wee, daisy-like chamomile blossoms soothe with similar effect.
Geranija/iStock/Getty Images
If spring rain had a fragrance, it might be peony. These sumptuous blossoms often carry crisp, fresh scents perfumers refer to as "green." Peonies vary in aromatic depth and strength, but their well-behaved fragrances seldom wander. Instead, they invite and reward those who come close and breathe deep. Use peonies in romantic table settings where their fresh fragrance won't fight with culinary aromas. Pair their beauty with faintly scented or unscented flowers that won't detract from the delicate floral scent. Lithesome lisianthus brings glamour and movement to elegant peony arrangements. Mint, oregano, rosemary or berry sprigs add garden charm to peonies and aromatic meals.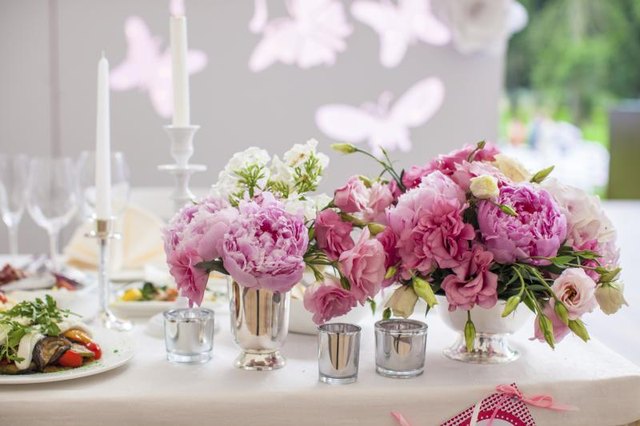 travnikovstudio/iStock/Getty Images
Freesias bring arrangements sweet, full fragrance with strong citrus undertones. In single colors or brightly mixed, freesia-only bouquets combine chicness with scent. Like a glass of fresh-squeezed juice, freesias get morning senses going. Use their definitive aroma to jump start the day in kitchens and breakfast nooks. Often used as floral fillers, freesia fragrance dominates. Let them revel alone or layer complementary scents beneath. Be as exuberant as you please. Freesia fragrance varies by color, but yellows and creams seldom disappoint. Add subdued roses, softly spiced carnations or near-scentless, fresh-green blooms, but always let freesias take the fragrance lead.
studioportosabbia/iStock/Getty Images
Some powerful, distinctive floral fragrances demand a light hand. In outdoor settings, Oriental lilies and Arabian jasmine fill entire gardens with their scents. People either love or hate their pungent perfumes in arrangements. Stargazer and Casa Blanca lilies cause allergic responses in some sensitive people. In confined spaces, they overwhelm even their devotees if overdone. But a few choice blooms paired with subtle or unscented flowers provide a rich, sweet, syrupy delight. Balance lily or jasmine aromas with faintly clove-scented carnations and unscented flowers, such as tulips. Place these intensely fragrant arrangements in open rooms, where indulgence remains a personal choice.
Lindsay Swantek/iStock/Getty Images
Not all strong fragrances call for limited competition. Some meld into pleasingly complex aromas when paired with equally potent, complementary scents. The strong musk of purple hyacinth balances seeded eucalyptus' robust, pine-like scent for a delightful earthy, woodland mix. Strongly scented stock, often used to bring bouquets added mass and clove aromas, provides a fragrant floral backdrop. Tie these strong scents together so that no single fragrance dominates. Elevate earthy, woodsy arrangements to mantles or similar spots where their fragrant complexities can disperse easily and be enjoyed from afar.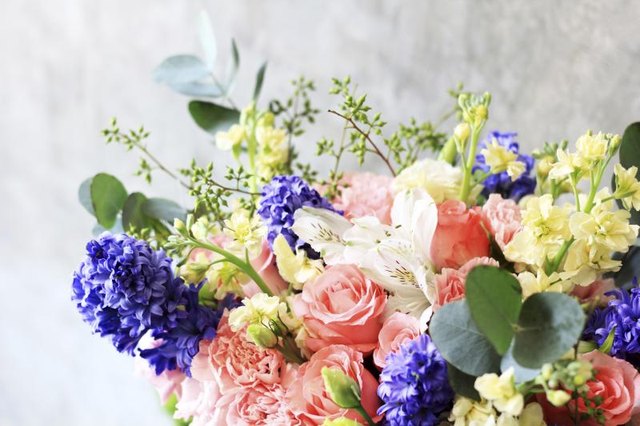 nattavutluechai/iStock/Getty Images
Promoted By Zergnet