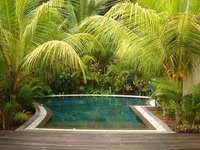 If you are seeking to avoid chlorine or other harsh chemicals in your pool, there are many different options to choose from. Overall, maintaining a pool with a chemical-free system is no more expensive or difficult than using a system that contains dangerous chemicals. The biggest task lies in deciding which system to use.
Here is a short overview for three of the more popular and reputable chemical-free pool maintenance systems pool owners may choose.
Eliminate chlorine from your pool by using a system like Pristine Blue. This system uses a system that is actually similar to the way many municipalities treat their drinking water. It is easy to maintain and is no more expensive than maintaining a pool with chlorine.
This system utilizes six main parts that include a preparatory agent that is used before any other products, a preparatory agent that helps remove remnants of chlorine, an algicide, an agent that kills dirt and bacteria, an agent that prevents scale from forming, and an agent that enhances the filtration system.
This product only needs maintenance performed twice a month to keep a pool clean and sanitary.
Maintain your pool with a chemical-free system like Chlor-free. This system utilizes ionizing capsules to keep a swimming pool pure and clean. This method is cost-effective because it does not require additional plumbing or electricity to operate.
This system is able to keep a pool clean and free of algae and bacteria by ionizing the water through their special purification metals that ionize the swimming pool water as it flows through the coils.
There is some evidence that suggests that certain health conditions may be improved by having contact with water that is ionized in this process.
Keep your pool clean without chemicals by using a system like BZT Pool and Spa Treatment. This method cleans the pool water by attacking dirt, bacteria and waste and neutralizing it. It is safe, chemical-free, easy to use and cost-effective when compared to other similar systems.
The BZT company specializes in creating cleaning products that are environmentally safe and that neutralize bacteria and enzymes. The BZT product helps stop water rings around the edge of a pool, increases the efficiency of the pool filter and is biodegradable. BZT is safe for all kinds of pools.