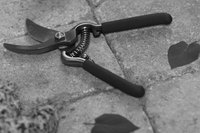 The last roses of summer bloom at different times depending on where they grow and their pedigrees. Most roses that grow in the northern parts of the United States benefit from some winter maintenance and protection. Southern roses live a more leisurely life and need less attention in the winter. Most roses, though, will benefit from a bit of trimming as winter closes in to protect the plant from winter's dry winds and summer's leftover germs.
Things You'll Need
Pruning shears
Long-handled loppers
Thick garden gloves
Pruning sealer or disinfectant
Bleach water
Paper sacks
Optional:
Pruning saw
Inspect roses beginning after the first frost. Wherever you live, there's really no need to begin winter maintenance until the first frost signals to your roses to set seeds and begin the transition to dormancy. Once the temperature is below freezing at night, trim out any diseased branches and then protect the cut with pruning disinfectant or sealer. In areas where the first frost comes later, inspect your roses no later than the end of October to find and remove diseased branches. Put diseased branches in paper sacks and dispose of or (preferably) burn the diseased branches. Clean and disinfect pruning shears or loppers before storing. If you are trimming several bushes with diseased branches, clean your tools between each bush.
Allow roses to go completely dormant before completing any year-end trimming. Stop fertilizing roses in August and cutting flowers in September. Timing varies, of course, by climate zone. Wherever you live, the ground should be frozen before mulching roses, burying climbers, and wrapping tea and tree roses. Shrub roses seldom need more than a good layer of mulch around their bases. Before mulching or wrapping, trim out dead branches or canes. Seal cuts near the base of the shrub to avoid "sucker" growth. Use white or wood glue as a sealer for large branches.
Make clean, 45-degree cuts whenever you trim a rose bush so that water or snow doesn't sit on the cut. As with spring pruning, cut above a five-leaf branch on the "out-side" of the bush, so that the new bud does not grow toward the center of the plant. Never cut more than a few inches off branches when you harvest rose hips or trim roses for winter.
Mulch or bury roses when plants are fully dormant. Mulching, wrapping or covering roses too soon will delay the onset of dormancy and the rose will be more susceptible to die-back or disease. After burying the plant, trim any branches sticking out of the wrapping to protect the plant against dehydration. Again, try to cut above an outward-facing bud at a 45-degree angle. Always clean and disinfect shears, loppers or pruning saws before and after use.
Consider trimming as the final "fall cleanup" for your roses rather than as "pruning." Although some tall roses will need more trimming than others, many old roses or shrub roses can actually be hurt by fall pruning. Certain low-growing "ground cover" roses are hardy enough to be trimmed with hedge shears to maintain their shape but rugosas should be left alone with their hips intact throughout the winter. The best source of information about a specific type of rose and just how---or if---it should be trimmed in early winter is the nursery where you bought it or your local state university agricultural extension.