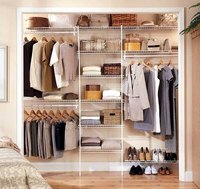 Many people have closets with wasted space. Having an organized closet with plenty of space can keep your home cleaner and less cluttered. Adding extra storage to a closet is as easy as putting in extra shelves or installing an extra rod. This can double your storage space.
Things You'll Need
Wire or wood shelving
Brackets
Measuring tape
Closet rod
Brackets for hanging extra rod
Hammer
Screws
Drill
Molly bolts (optional)
Determine the amount of space you have to work with in your closet by using the measuring tape and writing down how much horizontal and vertical space you have to add shelves or rods to your closet.
See if adding a shelf above your existing shelf would increase your closet storage. Some homes have high ceilings, and most closet shelves are a little more than five feet off the floor. If your ceiling plate is 8 feet, you can easily add another shelf about 16 to 18 inches above your existing one to double the shelf space.
Buy wire shelving or wooden shelves at the local home improvement store, along with enough brackets to support the shelving. If you are storing lightweight items like clothes, you will need fewer brackets than if you plan to store heavy items like china and silver.
Using a ruler or a tape measure, make marks on the wall with a pencil or marker for the placement of the top screw or nail for the bracket. Screw the shelf brackets to the wall, and lay the shelves inside them.
Organize your clothes in the closet by length. Put the shirts and blouses in one area. If you fold your slacks over a hanger, you can add those to the part of the closet where you want to double your rod space.
Measure the length that you have available to add a rod, write it down, and buy a rod as close to that length at the home improvement store, along with two or three brackets to put the rod into. If you don't anticipate adding more clothes, you can divide the total length of short clothes you have hanging by two so that you can put half of them on the new rod, freeing up more space you have to hang your longer clothes.
Install the brackets. If your clothes are heavy or if you have a lot to hang from the rod, use three brackets and consider using Molly bolts first to secure the brackets to the wall. If you use Molly bolts, you will need to drill a hole first to insert the bolts. Once you have inserted the bolts, you'll probably need to tap them lightly with a hammer to get them flush with the wall. Once the Molly bolts are in, continue to install the brackets.