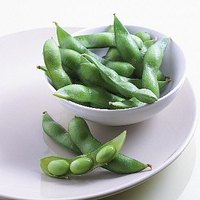 Edamame are a popular appetizer at Asian and Sushi restaurants, but they're also a delicious and healthy snack you can make at home. These immature soybeans are full of protein, vitamins, and cancer-fighting isoflavones. Edamame can be found in the frozen food section of most grocery stores (I currently live in Mississippi and we even have them here!)
Things You'll Need
I bag Edamame
Microwave -or- Pot of boiling water
1 Tbs Kosher Salt
1 tsp Ground Pepper
Empty part or all of the bag of edamame into a bowl and cover tightly with plastic wrap if microwave cooking. For the stovetop method, drop the edamame into the pot of boiling water on the stove.
Microwave for 4-6 minutes and allow to cool for 2 minutes before removing the plastic wrap. Drain water from bowl. If using stovetop method, boil the edamame for 20 minutes, drain, and place in a bowl.
Sprinkle the cooked edamame with Kosher salt and pepper, toss to distribute. Experiment with other spices if desired.
To eat, pull the pods between your front teeth so that you're squeezing the beans into your mouth. Discard the shells.