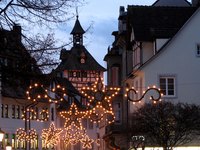 The primary safety issue when connecting outdoor Christmas lights is minimizing the risks posed by water. Getting water in the bulb sockets, the connectors between strands of lights or the extension cord connector can cause fire or electrocution. The risk can be minimized by using high-quality equipment and some common sense.
Things You'll Need
Outdoor Christmas lights
Outdoor extension cord
Ground fault circuit interrupter
Purchase lights specifically suitable for outdoor use. They should be labeled as outdoor lights and have a small, circular label that says "UL" or "ETL."
Plug your Christmas lights into a ground-fault circuit interrupter, or GFCI. A GFCI is a device that automatically detects short circuits and shuts off the current. They can be recognized by two buttons labeled "test" and "reset" built into the plug. If you do not have a GFCI, you can buy a portable one and plug it into a wall socket.
Check the Christmas light strands for damage. The cord should not be frayed or torn, and there should be no missing or broken bulbs.
Connect your strands of Christmas lights by placing the connections between two strands out of the snow, either directly off the roof or above it. Hang all the lights facing downward from their sockets and out of the snow.
Connect the lights to an outdoor extension cord in a dry area. The connector should not be directly beneath the eaves of the house or near a rain spout.
Connect the extension cord into the GFCI.