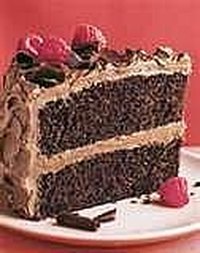 Chocolate cake can be good, but it's still just a chocolate cake. With just a few extra ingredients and a little more time, you can turn a plain cake mix into a mouth-watering exstravagent dessert.
Things You'll Need
electric mixer
mearsuring cup and spoons
2- 8 or 9" round cake pans
can of bakers joy spray
one box moist chocolate fudge cake mix (any brand)
one box instant chocolate pudding
3 eggs
applesauce
small jar rasberry preserves or all fruit
small container sour cream
chocolate syrup
Lg container whipped chocolate frosting
use bakers joy spray on your cake pans and pre-heat your oven to recommended degrees on mix box.
make box cake mix according to package instruction, but instead of using oil use 1/2 cup applesauce, and add one pkg instant chocolate pudding mix + 2 extra tablespoons of water.
pour evenly into the two round cake pans and bake as directed, checking for toothpick to come out clean. let cool.
while cake is baking, place can of the whipped chocolate frosting in a bowl, and add 1/4 cup sour cream, beat together.
place one cake upside down on cake plate. use 1/3 of frosting mixture to cover top of it. add a layer of raspberry preserves. take chocolate syrup and drizzle over raspberry layer. place second cake right side up on top of the layers, and use the rest of frosting mixture to frost.