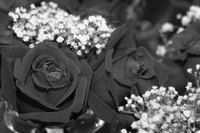 Real roses naturally grow in many different colors, which now even includes purple. However, these flowers do not grow in certain colors, the two most notable of which are blue and black. While it is possible to find what are often referred to as black roses, they aren't really black unless they are specially dyed that way. Even these "black" roses are an extremely rare anomaly, which result from a particular rose variety. Silk roses are dyed in hundreds of different colors, including black.
Contact local florists to see if they would be willing to dye fresh roses black. Some florists will try almost anything, although the customer may be out a pretty penny if the dye doesn't work. Once the flowers are ordered, you must pay whether or not the dye takes or the flowers survive.
See if a major flower trading group, such as Teleflora or FTD, would dye fresh roses black. None of these groups currently advertise the sale of black roses, although some of them may be able to offer alternatives such as the Black Bacara on rare occasions. However, expect any unusual special orders to cost three to five times more than standard roses.
Wait for the rare Sterling Silver rose that, for reasons still not fully understood, turns an unusually deep purple color that some refer to as "black." These only occur about once in every several thousand flowers, however, and are outrageously expensive, if you can find them at all.
Opt for the Black Bacara rose as an alternative. This ultra-deep-burgundy rose is the closest a naturally grown rose comes to resembling a true black rose. Be aware, however, that not every floral shop can obtain this rose, and the flowers are likely to be very expensive. Obies Floral (see Resources below) offers the Black Bacara.
Purchase an Ink Spot hybrid tea rose bush. This deep-crimson rose isn't quite as dark as the Black Bacara, but some may find its deep red color appealing. Although no major floral site currently sells Ink Spot roses, they can be purchased in bush form for growing at home. Try S&W Greenhouse (see Resources below).
Try the Black Magic hybrid tea rose. Like Ink Spots, the Black Magic rose isn't really black at all. This one isn't even quite as deep a red color as the Ink Spot. Still, some consumers find it a welcome alternative. Purchase this plant at Jackson & Perkins (see Resources below).
Check out the miniature rose bush called Black Jade. It can be purchased at Growquest (see Resources below). Once again, however, this flower is deep red, not truly black, and it is strictly a miniature rose.
Purchase deep-red roses and black floral paint to paint the flowers yourself. The results may be mixed or completely unsatisfactory, however.
Purchase black silk roses at virtually any arts and crafts store or even discount department stores that carry a wide variety of silk flowers.