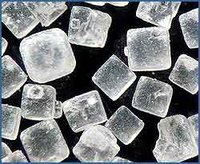 Most people would never think of making their own salt. However, this can be a fun do-it-yourself project for both kids and adults! So grab a few ingredients and feel free to experiment away. Once you get the hang of it, you'll see that the salt-making process is quite ingenious and fun to master.
Things You'll Need
Add salt to the boiling water. Continue adding teaspoons of salt until the salt no longer dissolves in the water, but begins crystalizing in the bottom of the pot. This may take 2 or 3 tsp. or more, so be sure to watch carefully for crystallization.
Soak a piece of cardboard in the crystalized solution. After the cardboard is thoroughly saturated, place it in a location where it can dry out, such as outside, in the path of a sunlit window or in a warm room.
Watch for the salt crystals to form.
Break down the crystals to your preferred size once they are complete. Use as table salt.