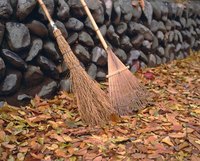 The fall season means constant raking and removing leaves, particularly for those who live in highly forested areas. Once you've raked your leaves into neat piles, spending all that time and energy to do it, the same question always comes up--how can you get rid of all these raked leaves? Luckily, there are many different options and methods, some easier than others, that will help you to get rid of those leaves once autumn arrives.
Things You'll Need
Shovel
Leaf blower (optional)
Mulch the leaves. If you have a mulching lawn mower, try to simply mulch the leaves right into the grass without raking them in the first place. You'll need to mow the area at least twice a week in order to do this properly, even more often if you live in an area with lots of trees. For best results, make sure that the leaf cover never gets too heavy before you mulch them.
Compost the leaves. Instead of removing raked leaves, consider starting a compost pile with them. Not only will this help you out with your gardening in the spring, but it's a much more environmentally friendly approach. To compost leaves, all you really need to do is set aside a little piece of land and put them in a pile to wait until the spring.
Burn the leaves. While this might not be the most environmentally friendly method of leaf disposal, it's the method of choice in many rural areas. If you live in an area where the practice is legal, consider burning leaves. Be careful to avoid windy days and to be cautious about how you go about the burning process.
Kick your leaves to the curb. In many suburban areas, leaves are picked up throughout the fall by trucks at curbside. Check with your local government to see if this is an option and to find out about the pickup method. Generally, the best way to go about this is to get a large tarp. Rake all the leaves onto the tarp, drag the tarp to the curb and dump the leaves out into the street.