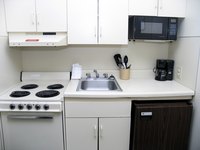 If you're looking into different techniques for cleaning appliances, then you're probably inundated with abrasives, chemicals and natural products. It can get confusing. Get the lowdown on different ways to clean textured appliances, like your fridge handle, dishwasher, microwave and toaster. You can make your textured appliances surfaces look like new. Read on to learn how to clean textured appliances.
Things You'll Need
Dish sponge
Microfiber sponge
Baking soda
Water
Vinegar
All-purpose cleaner
Unplug small appliances before cleaning them. When you're cleaning appliances, it's easy to accidentally hit a knob and turn it on so it's just a good idea to make sure that there's no way to burn or cut yourself.
Wipe all solid debris from the surfaces of your kitchen appliances. This is the easy part. Simply dampen a rag with hot water and vinegar. If you prefer, you can use an all-purpose cleaner. Wipe away the solid debris leaving behind the textured appliance surface that probably has brown gunk in between the nooks and crannies of the surface texture. Advanced cleaning techniques are in order for this type of surface.

Dampen a microfiber sponge with water. Sometimes these sponges can be damaged by the use of chemicals, including mild dish soaps. Be sure that your appliance is free of soaps or cleansers and wipe gently with a microfiber sponge. If you ever wondered why they're called "magic." You'll soon see. In just a few gently wipes, the textured surfaces are clean and free from gunk. Wipe the gunk away with plain water and enjoy your appliances looking like new.
Dip a damp dish sponge into baking soda if you don't have access to a microfiber sponge. The baking soda is a gentle abrasive that can be scrubbed into the textured surface to release the gunk that's deep in the crevices. Rinse the baking soda from the surface by wiping with a damp sponge until you no longer feel the slipperiness of the baking soda. Baking soda cuts minerals, and makes the water very alkaline, this also helps to release the gunk.