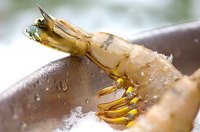 How to Cook Shrimp. Shrimp is still the most popular seafood in America. Almost all shrimp are processed and frozen at sea. Buy shrimp that are still frozen, with their shells on; then, follow these simple steps to ensure a safe and tasty meal!
Things You'll Need
Colanders
Salt
Tongs
Large Cooking Pots
2 tbsp. lemon juices
1 to 2 lbs. raw shrimp
Grand Prix II Chef's Knives
Shell and devein the shrimp before cooking, if you like (see Related eHows for instructions).
To cook a pound of shrimp, bring two quarts of water to a boil.
Salt the water lightly. You can also add some lemon juice, if desired.
Shut off the heat and pour the shrimp in the water all at once.
Let them steep about 3 to 5 minutes, or until done. Shrimp are best when cooked gently.
Check by cutting one in half. If its flesh is opaque throughout, it's done.
Remove them from the cooking water immediately.