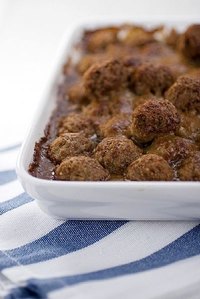 I am sharing our family's favorite meatball recipe. This recipe was passed down to me from my mom who is a spectacular cook. Enjoy!
Ingredients:
1 pound ground pork 1 pound ground beef 2 cups seasoned bread crumbs 2/3 cup grated parmesan cheese 4 Tablespoons parsley 3 cloves garlic, minced 2 large eggs 2 teaspoons salt 1/2 teaspoon pepper
In a large bowl, mix all ingredients together with your hands. Roll mixture into meatballs and roll each one in flour.
In a skillet, pour 1/2 cup olive oil and 1/2 cup vegetable oil. Over medium heat, cook meatballs in oil until lightly browned on all sides.
Place browned meatballs in a greased baking dish. Pour spaghetti sauce over all. Cover and bake at 350 for 30 to 40 minutes, or until no pink remains. Serve with your favorite pasta or in sandwiches.