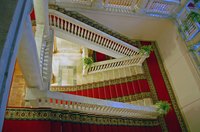 Installing carpet runners on stairs will make your home seem more elegant and make the trip up and down your stairs more comfortable. In our discussion of installing stair runners, keep in mind that the term "tread" refers to the flat, horizontal part of the stair and the term "riser" refers to the vertical portion of each step. Staple guns and carpet stretchers can often be rented at your local hardware supply center.
Things You'll Need
Tackless strips
Carpet Padding
Carpet for runner
Staple gun (1/2 inch staples)
(1/2 inch nails)
Hammer
Carpet knife
Tape measure
Pencil
Carpet stretcher
How to Install Carpet Runners on Stairs
Cut one tackless strip for each tread of the stairs you wish to carpet. Cut tackless strips 1 inch shorter than the width of each step or slightly shorter than the width of the carpet you will be laying on your stairs..
Attach the tackless strips to each step approximately half an inch in front of the point at which each tread meets each riser. Attach using a 1/2 inch staple gun or use 1/2 inch nails. Be certain that you measure carefully to make certain that the tackless strip is centered exactly on each step.
Using a carpet knife, carefully cut the carpet padding into pieces that are the same width as the tack strips. They should hang approximately two inches over the nose of each step. Position a carpet pad on each step and staple down securely.
Attach the runner to the stairs starting at the bottom step and working your way up. Start by aligning the perfectly squared end of the carpet runner with the bottom edge of the first riser where it meets the floor. Use the staple gun to staple the stair runner to the riser as close to the floor as possible, stapling every two inches.
Pull the carpet up tightly and staple just under the edge of the nose.
Using the carpet stretcher pull the carpet tightly over the first step and hook the carpet to the tackless strip near the riser for the first step. Make certain that you have stretched the carpet straight. Once you are satisfied, use the staple gun to staple the carpet to the stair tread right at the juncture between the tread and the riser.
Pull the carpet up tight and staple under the nose of the next tread and then continue the process to the top of the stairs.