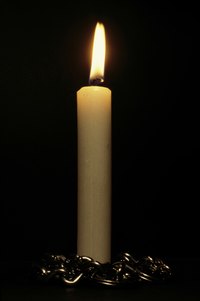 Making tallow candles is a great way to combine historic crafting with contemporary practicality, as the candles are useful during power outages. While you can purchase ready-to-use tallow, you can also render it yourself by a simple -- though somewhat time-consuming -- process.
Things You'll Need
Beef suet
Double-boiler saucepan or large stockpot
Wooden spoon
Essential oils (optional)
Candle coloring (optional)
Cooking spray
Wicks
Molds
Chop the suet into small pieces by hand.
Place the suet into the top of a double boiler or in a stockpot.
Melt the suet slowly over low heat for five to six hours, until a clear liquid forms at the bottom of the pan and impurities float to the top.
Add coloring and scented oils, if desired.
Strain the fat through cheesecloth.
Spray the inside of the mold thoroughly with cooking spray.
Wrap one end of the wick around a pencil or skewer and lay it across the top of the mold, placing the rest of the wick inside the mold.
Pour the tallow slowly into the greased mold. Allow it to set until cooled and solid.