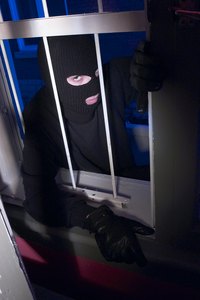 According to security expert Queenie Mason, a home burglary happens every 15 seconds in the United Sates. In addition, only 15 percent of stolen property is ever recovered. These statistics may make you want to take steps to ensure that your home and valuables are protected from burglars. There are many security options available, ranging from security alarm systems to things you can do yourself inside and outside your home.
Things You'll Need
Alarm system, optional
Light sensors
Locks
Invest in an alarm system. Burglars might move on to another house if the one they want is set with alarms. Compare the different companies in your area by finding out what kind of protection you get for your money. Ask about wired versus wireless systems, the benefits of motion trip sensor lasers, and if you can supervise your home from other locations. Place alarm system stickers on windows and make system signs visible next to outdoor gates and doors.
Make your home appear occupied at all times. Leave a locked car in the driveway and put a light on inside that can be seen from the outside, for example. Set up light and television timers to go on and off while you are away on vacation. Add sensored lights to your outside, stop mail and newspaper service, and have a trusted neighbor gather solicitation papers left on your property. In addition, mount outside lights to keep burglars from unscrewing bulbs.
Choose the best locks for your specific windows and doors. Install a deadbolt lock to the front and back door. Get a steel bolt and check to make sure the length extends at least 1 inch into the door frame. Add additional locks to any push-button locks. Also, purchase free-spinning cylinder locks that are difficult to remove. Change locks immediately when moving into a new home or if you lose your keys.
Keep shrubs and trees trimmed. Burglars look for overgrown bushes to use as a hiding place while trying to enter your home. Cut the lawn weekly so that burglars know the house is regularly occupied.
Pin your windows. Place a drill at a slant inside the top left side of the window frame. Drill a 3/16-inch hole into the frame and halfway through the outside frame. Repeat on the upper right side. Put a nail in each hole so that the window cannot move.
Lock up bikes, lawn tools and backyard toys as visible items tempt burglars. Draw curtains in rooms with electronic equipment and expensive personal belongings. Place a fireproof safe in an out-of-the-way place and store jewelry, money and irreplaceable objects in it at all times.
Get a dog, preferably a large one. Keep the dog outside when you are gone for a short time.