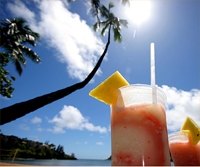 The Lava Flow Cocktail gets its name from the way the finished drink looks. Although it may resemble molten lava, this drink is actually cool and refreshing, and is the perfect treat on a hot day. If you like Pina Colada, you will love the Lava Flow. Here is how to make a Lava Flow Cocktail.
Things You'll Need
Blender
1 2/3 oz. rum
1 2/3 oz. coconut rum (Malibu is ok)
2 oz pineapple juice
1 2/3 oz. coconut cream (or coconut milk)
2 scoops crushed Ice
2 cups strawberries
Put the strawberries into the blender and puree them. After they are finished, pour them into a dish and set them aside.
Rinse the blender and add all of the other ingredients. Blend them on high until all ingredients are blended smoothly.
Pour the contents into a tall cocktail glass (or a Tom Collins glass), then pour the strawberry puree from Step 1 into the top. The strawberry puree will work its way down, making the Lava Flow that gives the drink its name.
Garnish with a small pineapple wedge stuck onto the rim of the glass.