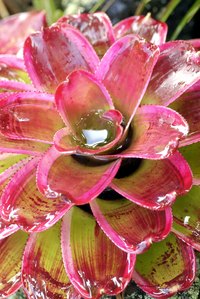 Bromeliads are popular plants with the most common being the pineapple. However, many bromeliads are kept as houseplants. They only bloom once; if you get impatient waiting, you can speed the process along.
Things You'll Need
Place the bromeliad plant, pot and all, into a clear plastic bag.
Put a ripe apple into the same bag. Leave a small hole for some air, but keep it limited. The apple will produce ethylene gas, which triggers the flowering process.
Move the bag and its contents out of direct sunlight for a week.