You can take pea salad in more than one direction -- and tailor it to the main course you're serving it with -- by experimenting with ingredient combinations and serving temperatures. For example, if you're serving pea salad with oven-roasted or grilled fish, take a heated approach and serve it warm with sauteed aromatic ingredients, such as shallots and garlic. If you're taking the classic route and serving pea salad cold, but want to add your own flair, use an olive-oil dressing instead of mayonnaise and incorporate exotic flavor combinations like fennel and dill, or teardrop tomatoes and pancetta.
Warm
Step 1
Heat olive oil or rendered bacon fat in a saute pan on the stove over medium heat for about 5 minutes.
Step 2
Add aromatic ingredients to the saute pan. Alliums, such as shallots and leeks, or sliced fennel, for example, are classic ingredients that always work with peas.
Step 3
Add pungent ingredients, such as chopped garlic, if you want to give the peas a little kick to contrast their mildness. If you want a bit of heat, a pinch of red pepper flakes gives it to you.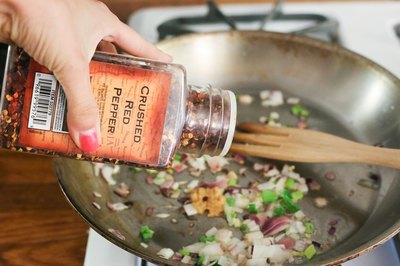 Step 4
Saute the aromatic and pungent ingredients until fragrant and soft, about 5 or 6 minutes. Add the peas to the pan and season to taste with kosher salt and freshly ground black pepper.
Step 5
Stir to coat and combine, then cook for about 3 minutes longer. Garnish with freshly chopped herbs and a squeeze of lemon juice before serving.
Cold
Step 1
Boil fresh peas for 2 to 3 minutes, then cool them down under cold running water. Drain the peas and chill them in the refrigerator. If you're using frozen peas, thaw in a colander under cold running water and let them drain so there isn't much water added to the pan. Keep them in the refrigerator until you add them to the salad.
Step 2
Chop aromatic ingredients into 1/4-inch pieces and add them to a mixing bowl. Celery and onions are classic, but shallots and fennel lend an interesting twist to a proven classic.
Step 3
Add the peas to the mixing bowl along with a fat. Mayonnaise is classic, but olive adds a lighter touch and a Mediterranean feel. Stir to combine.
Step 4
Season the salad to taste with kosher salt and freshly ground black pepper. Add finishing ingredients, such as fennel and prosciutto, or chopped boiled eggs and bacon, to taste.
Step 5
Chill the salad in the refrigerator for at least 30 minutes. Garnish with freshly chopped herbs before serving.