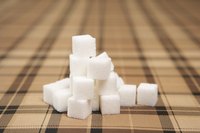 An igloo built out of sugar cubes can be a great centerpiece for your holiday table. These decorations are also fun for children to make. Add extra fun by turning this craft into a contest and give prizes for things such as the fastest igloo built, the best looking, the most layers and the most likely to fall apart.
Things You'll Need
Several boxes of sugar cubes, at least one box per builder
Cardboard circles, at least 7 inches in diameter
1 teaspoon cream of tartar
2 cups powdered sugar
1/4 cup shortening
Small winter themed-toys
White paper doily with a diameter of at least 10 inches
Cotton batting
Cotton balls
White glue or royal icing
Assembling Your Materials
Mix royal icing. Measure 1/4 cup shortening and place in mixing bowl. Add 1 teaspoon cream of tartar. Slowly mix in the 2 cups powdered sugar until the mixture is creamy. Set aside.
Spread a dot of royal icing on the side of a sugar cube with a knife and then place it icing side down on the cardboard circle's outer edge. Repeat until there is just 2 inches of cardboard edge left. This will be your doorway. Wait 10 to 20 minutes.
Begin the next row by placing the first sugar cube over the line between two sugar cubes, like you are laying bricks. Wait 20 minutes between rows to allow the icing to harden. Continue until you have about seven rows and start the rows for the top separately on the table.
Let your top rows and your igloo base harden for several days before attaching the top to the base. Carefully spread icing on the top edge of each sugar cube in your base. Settle the top carefully into place and press just slightly. Allow your igloo several days to harden.
Make a Scene
Lay out cotton batting where you want to display your igloo. Place a white paper doily where your igloo will sit. Carefully move your igloo onto the doily.
Use the toys, cotton balls and glue or royal icing to place your items around the igloo in whatever way appeals to you. Use a small mirror to simulate a frozen pond. Make snowmen from cotton balls.
Display your igloo on a mantel, window ledge or tabletop where everyone can see and enjoy it.