Cook your own at home and enjoy succulent, juicy and flavorful chicken strips instead of store-bought varieties that tend to be dry and not very tasty. Crispy cooked chicken is a favorite main dish throughout the world, and chicken strips are extremely popular as well, especially with children. Making the strips takes little effort, even if you are not an avid cook. Follow a few time-honored tips to perfect the strips every time you make them.
Things You'll Need
1 large shallow bowl
2 small mixing bowls
3 large eggs
2 forks
4 1/2 cups flour
1 tbsp. salt
1 tbsp. ground black pepper
Seasonings of your choice
Vegetable oil
Large, deep frying pan
3 lb. chicken, breasts or tenders
Slotted spoon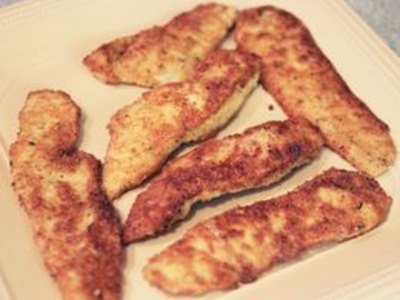 Step 1
Line the bowls up on your counter with the large shallow bowl to the right of the two small mixing bowls.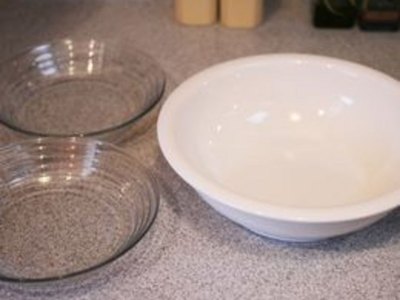 Step 2
Crack the eggs into the second small mixing bowl and scramble with the fork. Keep the fork in the egg bowl.
Step 3
Place 1 1/2 cups flour into the first small bowl. Add the salt and pepper and stir well.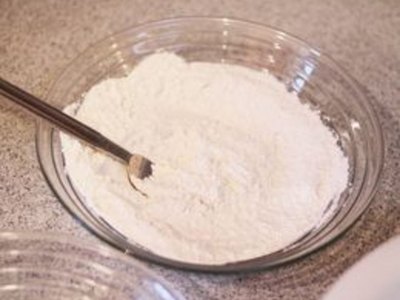 Step 4
Place the remaining 3 cups flour in the large shallow bowl. Add any seasonings you desire. Seasonings can include chili pepper, fresh diced chili peppers, garlic powder, onion powder or paprika.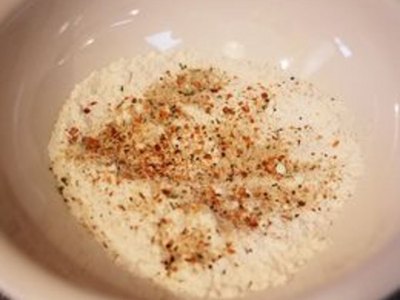 Step 5
Preheat the oil over medium heat in the large frying pan. The oil is ready when tiny bubbles begin forming on the bottom of the pan. It is essential that the oil be thoroughly heated before any chicken is placed in the pan to cook, or the chicken will not turn out crispy and the coating will come off of the strips.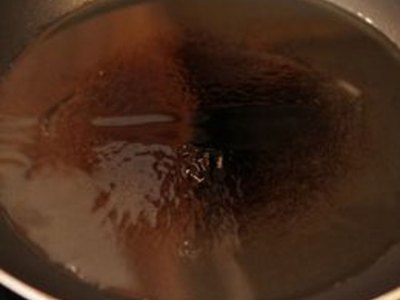 Step 6
Wash the chicken and drain off the excess water. If using chicken breast, cut each breast into 1-inch thick strips.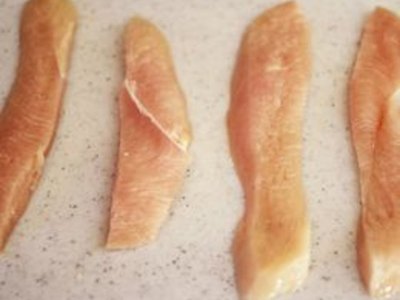 Step 7
Dip the chicken in the small bowl of flour and coat well.
Step 8
Dip the chicken in the scrambled eggs.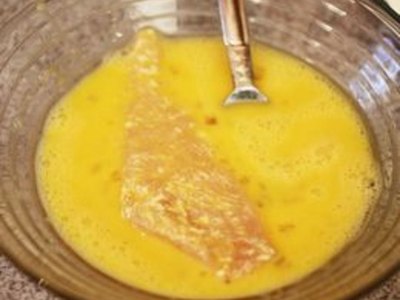 Step 9
Use the fork to lift the chicken strips out of the egg and allow the egg to drip off. Place the chicken into the large shallow bowl and coat well with the second flour mixture. Let the chicken sit in the flour for a few moments while you dip more pieces of chicken. When the large shallow dish is full of coated chicken, use the second fork to pick the chicken up and lower into the hot oil.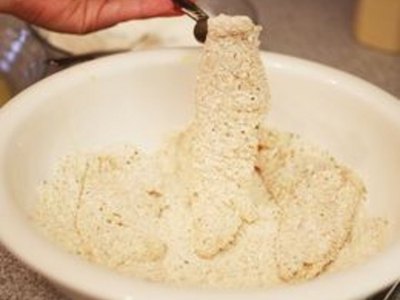 Step 10
Fry for approximately two minutes and then turn the chicken pieces and fry an additional two minutes. The chicken strips are done when the dull side of a slotted spoon or the fork cut through the strip with minimal effort. The coating on the strips will be a crispy golden brown. Be careful not to overcook the chicken or the coating will darken too much and the meat will become tough.