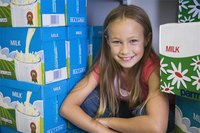 How to Make Powdered Milk Paint. This powdered milk paint recipe makes a great paint for kids' crafts. It's inexpensive to make and you can make tons of colors. It dries fairly quickly and leaves a glossy opaque finish. The following will show you how to make powdered milk paint for your kids' craft projects.
Things You'll Need
½ cup powdered milk
½ cup water
Tempera powdered pigment
Container or jar with lid
Paint brush
Palette pan
Measure out ½ cup of powdered milk into a plastic container or jar with a lid.
Add ½ cup of water into the powdered milk and stir until the milk is completely dissolved. This mixture makes up your "medium."
Put some of the medium onto a palette pan. Add a little tempera powdered pigment to the mixture.
Stir the powdered milk medium and the tempera powdered pigment gently with your paint brush on the palette pan until it is smooth. Add a little more powdered milk medium to make the color lighter or a little more of the tempera powdered pigment to darken the color.
Use water to thin the paint to make the color lighter or the paint more transparent.
Wash your brush out with water to change colors or when you are finished painting.