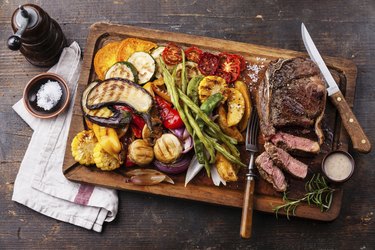 Beaver may not be the most traditional dinner entree, though Native Americans have feasted on this tasty rodent for centuries. Despite its undeserved reputation as a gamey meat, beaver is actually quite tasty, similar to pork or pot roast. "The positive aspects of beaver is that it's free range, delicious sweet red meat," says Kate Krukowski Gooding, author of "50 Ways to Eat a Beaver."
Beaver Prep
Remove fat and glands from the beaver before cooking to avoid a bitter flavor seeping into the meat. Pay special attention to the fat deposits in the front and rear legs, as these areas contain glands. The castor glands, located in the beaver's lower abdominal cavity, must also be removed. The best meat is along the backbone and on the hams. Beaver tenderloin is in the middle of the body cavity and on both sides of the back. Between the hams and the ribs you'll find the flanks, which are often strong-tasting pieces of meat. Once you have your strips and chunks of meat, soak it in salted water overnight before cooking to remove blood.
Beaver Tails
Beaver tail is fatty with a unique musky flavor. When cut into strips and breaded, you can fry this meat just like a piece of fish. Roasting over a campfire or in the oven also works well with beaver tails. For extra flavor, roast the tails with Cajun seasoning or fresh herbs. For a southern-style barbecued beaver tail, fire up your grill and baste skinless tails with barbecue sauce. The flavor of beaver tails also makes them a good seasoning meat for stews, soups and bean dishes.
Slow-Cooked Beaver
You may not believe it, but you can cook beaver meat in exactly the same way you'd cook a pot roast. When prepared in a slow-cooker with carrots, onions and potatoes, the meat becomes tender enough to pull apart with a fork and is just as tasty as a beef brisket. Keep in mind that the oil sacks and castor glands must be removed as soon as possible – preferably directly after skinning – in order to preserve the flavor of the meat.
More Cooking Ideas
Experiment with other preparations for beaver meat, using more traditional meat recipes as inspiration. Venison recipes work well with beaver meat, as do meat recipes with lots of spices, such as curried dishes. Beaver also makes a fine stand-in for beef in chili or stew. Try roasting beaver with salt pork and bacon, or experiment with marinades such as soy and garlic or red wine and spices to compliment the beaver's flavor.