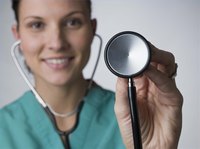 How to Treat RSV in Babies. Respiratory Syncytial Virus is an illness that commonly affects infants and small children. Infants are especially prone to this disease because of their underexposed immune systems. Because RSV is a virus, there are not medications effective for treating it. It is best to treat individual symptoms of the virus.
Things You'll Need
Fever reducer
Bulb suction
Formula or breast milk
Juice
Pediatric rehydrating drink
Humidifier
Seek advice from a medical professional. Follow the doctor's advice and counsel.
Treat fevers with acetaminophen and ibuprofen. Follow doctor and manufacturer guidelines.
Prevent dehydration by encouraging liquids. Offer formula or breast milk to infants under six months. Include juices and pediatric hydration drinks to infants over six months.
Relieve congestion. Use a bulb suction to remove mucous from the infant's nose. Use a fever reducer with decongestants with a doctor's approval.
Use a humidifier in the baby's room to help with breathing. Infants that have issues with breathing will likely be admitted to the hospital for breathing treatments followed by additional medications to aid breathing.
Keep the baby's exposure to other children and infants to a minimum. Allow the infant to fully recover from RSV before taking it in public.