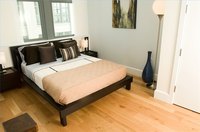 How to Place Bedroom Furniture. Knowing where to place bedroom furniture can be tricky, especially in smaller bedrooms. Follow these steps to arrange your bedroom for comfort and style.
Draw a layout of the room on paper, including measurements and placements of all doors, windows, radiators and other permanent features. If you're computer savvy and doing more than one room, invest in a design software service available for home decorators.
Measure your furniture. Decorators recommend scissoring little cutouts to scale and label each one with it's name and measurement. This way you can simply move them around your layout to get an idea of what fits where.
Arrange and rearrange the pieces until everything fits and creates a nice flow throughout the room. Check whether you will bump your leg on something when you walk through this layout, whether the space between any two pieces is too tight or whether the layout looks strange. Keep rearranging until you are happy with the design.
Get creative with your solutions. All the furniture does not have to be lined up against the walls. Try placing the bed out of a corner, diagonally into the room. If you have a big blank wall and no headboard, try hanging a curtain rod and some curtains behind the bed to create a focal point.
Apply basic principals of Feng Shui. Clear clutter from all corners for better energy flow. Keep electrical equipment and wires hidden in a unit with doors. Electrical equipment emits electromagnetic waves that can hinder a peaceful sleep. Hiding them also adds elegance to the room.
Place the real furniture according to your paper layout. If you've done your homework on the layout, you'll be ready to move right in and everything should fit just like you planned it.