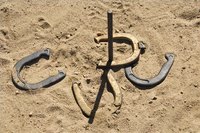 How to Make a Backyard Horse Shoe Area. There's nothing like being at a barbecue with the grill running hot, the beer flowing cold and a good old fashioned game of horseshoes being played. It's as American as apple pie. And the best part is, setting up a backyard horseshoe area, is really quite simple. Here's how.
Things You'll Need
Tape measure
Rubber hammer
Purchase a horseshoe set from your local sporting goods store or online. There are all sorts of game sets. From the antique cast iron, to the kid friendly plastic pieces, it all just depends on what you're looking for. Think about the barbecues and events you usually host and decide what would be most enjoyable for the guests in your backyard.
Scan your lawn. Find a place in your lawn that's at least forty feet long and relatively flat. This is where your horseshoe pitching area will be in your backyard.
Drive in the stakes. In theory, the stakes you drive into the ground should be about 36 inches long. (These will be included in your horseshoe set). You want to leave about 14 inches of each stake above the soil leaning backward at the slightest angle. To do this, use your rubber hammer to pound them into the ground. (You may need to remove a rock as you get deeper into the soil.)
Shovel or rake the area around the horseshoe post. You want to make a firm dirt patch around the post. You can do this by raking aggressively with a sharp-toothed metal rake, or lightly shoveling the soil around the stake. But be sure to pat it down afterwards so that the soil is firm.
Measure from the stake. In official horseshoe rules the distance is 27 feet for children, 37 feet for women and 40 feet for men. Find these distances with your tape measure.
Mark your backyard. Using the spray paint, mark those distances with a straight line long enough to match the two playing areas.
Crack a cold one! Relax and enjoy it; you are done. Time to have your friends over, get the grill fired up and play a game in your very own backyard horseshoe area!