How to Make Shrimp Cocktail. Shrimp Cocktail is a delicious appetizer that is pretty easy to make. The cocktail sauce can be made a few days in advance, and the shrimp can be cooked one day in advance so if you're making this dish for serving guests, this is a great way of minimizing the work you have to do on the day.
Things You'll Need
15 large shrimps
1/2 cup Heinz chili sauce
1 tbsp lemon or lime juice
1/2 cup catsup
1/2 cup finely chopped parsley
1/2 cup horseradish
1 drop hot sauce
1 tbsp Worcestershire sauce
1/2 tsp salt
Horseradish
Lemon or Lime juice
Shrimp
Parsley
Salt
Hot Sauce
Heinz Chili Sauce
Worcestershire
Catsup
Step 1
Combine all ingredients except the shrimp to make the cocktail sauce. Let the sauce chill for two hours to allow flavors to blend.
Step 2
De-vein the shrimp and discard the heads and shells.
Step 3
Boil the shrimp in water for 3 to 4 minutes. Remove from the heat as soon as the shrimp are opaque.
Step 4
Drain the shrimp and put them in ice water to prevent them from cooking any further.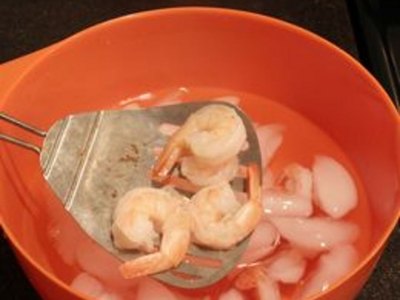 Step 5
Put 3 or 4 shrimps in a cocktail dish for a single serving, over a bed of iceberg lettuce.
Step 6
Pour cocktail sauce over the shrimp or serve it on the side for dipping.
Step 7
Garnish with lemon wedges if desired.