Things You'll Need
Ice Chest

Amount of beer you want cold

Bags of Ice

Box of Rock Salt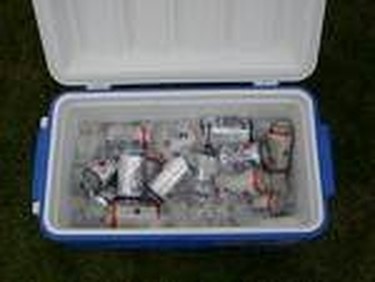 Packing a cooler of beer for a trip to the beach or camping is a process that is often over looked and done wrong. There are a few tricks that can make it easy and keep the beer cold.
Step 1
Don't just dump you cans/bottles of beer in the cooler, carefully stack beer on bottom of clear cooler.
Step 2
Pour a layer of ice over beer and slowly shake ice chest so ice falls between cans/bottles of beer. Pour a light amount of ice on top of beer and sprinkle rock salt onto ice. This will slowly melt ice to water and make a super cold layer around your beers.
Step 3
Once you have done one layer of beers repeat until your cooler is full. This process will not only allow for maximum space of cans/bottles of beer in your cooler but will make them super cold.
Tip
Carefully fill cooler with bottle's/can's so maximum amounts can added. Make sure lowest level of cooler is packed tight. Break bag of ice up so no large chunks are being added.
Warning
Beer will be extremely cold, wait that is not a warning!