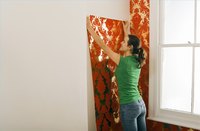 How to Apply Water to Prepasted Wallpaper. Most professionals treat prepasted wallpaper just like ordinary wallpaper: They apply adhesive paste anyway. But it is prepasted, after all, and if you want to skip the added paste, this is how to do it right.
Things You'll Need
Wallpaper Paste
Wallpaper Remover Solution
Basins
Paint Roller Pans
Pre-pasted Wallpaper
Rollers
Sponges
Wallpaper Accessories
Wallpaper Borders
Scissors
Wallpaper Steamers
Cut your paper to the correct length and roll it up loosely.
Soak the paper for a few seconds in a small trough of water. The water will activate the adhesive, but it can also wash the adhesive off - so move quickly.
If you don't have a trough, simply lay the paper on a clean table, pattern-side down, and dampen the prepasted side with a wet sponge or brush.
Fold one edge of the dampened paper upward, laying the end carefully at about the midpoint of the paper. Do the same on the other side.
Fold the two halves against each other, taking care not to crease the paper. This step is called "booking." It keeps the paper moist, keeps the paste from dribbling onto the floor and keeps the pasted surface clean.