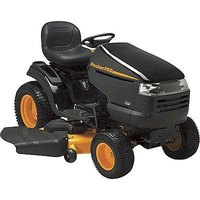 How to Buy a Riding Lawn Mower. If you're mowing a 1/2 acre or more, you'll probably want to consider purchasing a lawn tractor or riding mower.
Look for a 38- to 42-inch deck. The deck size refers to the size of the lawnmower blade - the larger the deck, the wider the cutting swath and the quicker the job gets done.
Choose the deck size according to the obstacles you have in your yard. A wider deck is good, but not if you have to go back and get between all of the trees with a regular mower.
Be sure you have enough room to store the mower.
Think about whether you want the engine in the front or the back. Rear engines usually give you better front visibility; front engines typically are found on more powerful mowers.
Ask the sales representative about the different speed controls. You will find a gear lever and clutch-brake combination, foot-pedal controls or a hydrostatic-drive system without a clutch. Expect to add $200 to $500 for the smoother, easier-to-operate hydrostatic drive.
Decide what the majority of your mowing will consist of. Will you be bagging, mulching or tossing the clippings out the side? Check out how complicated it is to switch from one mode to the other and whether you'll need additional accessories to do it.
Get the best warranty possible. Some surveys have found that riding mowers and tractor mowers have the worst reliability records of all major appliances.
Check out how easy the mower is to steer and brake, how wide the turning circle is, the ease of adjusting cutting height, how much legroom it has, where the gas tank is, how comfortable the seat and steering wheel are, how easy the controls are to reach and use, how the bag is removed and how difficult it is to get on and off.
Be prepared to pay between $800 and $3,000 for a tractor or riding mower.