Move over, coconut and kale! Vibrant and earthy turmeric is this year's nutritional superstar. While eating turmeric is hardly a new phenomenon -- it's been used in cooking and alternative medicine for literally thousands of years -- more and more people are turning to turmeric for its health benefits.
So, what are turmeric's health benefits?
Like many spices, turmeric is packed with antioxidants -- nutrients that shield your cells from damaging (and cancer-causing) free radicals. It's also a potent anti-inflammatory -- a major health benefit, since inflammation has been linked from health issues from obesity to cancer and Alzheimer's disease. Turmeric might also boost heart health by fighting atherosclerosis (the buildup of nasty plaque in your arteries) and soothe bloating and indigestion.
Eating turmeric also means you'll get a hefty dose of essential nutrients. Just 2 teaspoons has about one-fifth your recommended daily intake of manganese, a mineral that promotes joint and bone health. And you'll also get 10 percent of the iron you need for the day, which boosts your energy by supporting oxygen flow to your cells and tissues.
Great! How do I eat more?
Turmeric has a naturally earthy flavor, so it can add depth to just about any savory dish. You can find it in virtually any curry-based dish, or try one of these delicious (and disease-fighting) recipes.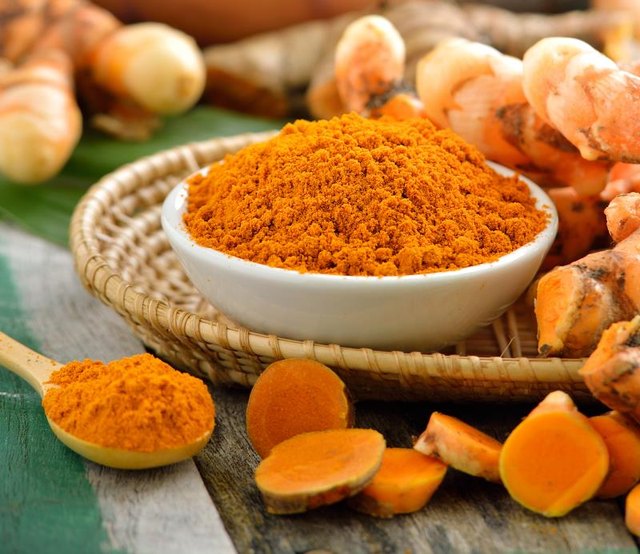 Golden Glow Salad Dressing
This spiced salad dressing works well on any leafy green salad (or as a topping for your favorite rice bowl) but stands up especially well to more flavorful greens, like dandelion, mustard and arugula.
Things You'll Need
1 tablespoon ground turmeric
1/4 cup all-natural unsweetened almond butter
2 tablespoons rice vinegar
1 tablespoon fresh ginger, grated
1 tablespoon green onion, sliced thin
Directions:
Combine the turmeric, almond butter, vinegar and ginger in a food processor and blend until smooth. Stir in the green onion and use to top your favorite salad!
Turmeric and Carrot Sunshine Soup
This nourishing soup can be served hot or chilled and packs in tons of nutrition, including lots of eye-friendly vitamin A from the carrots. Oh, and it has the most vibrant golden hue -- you'll immediately feel happier!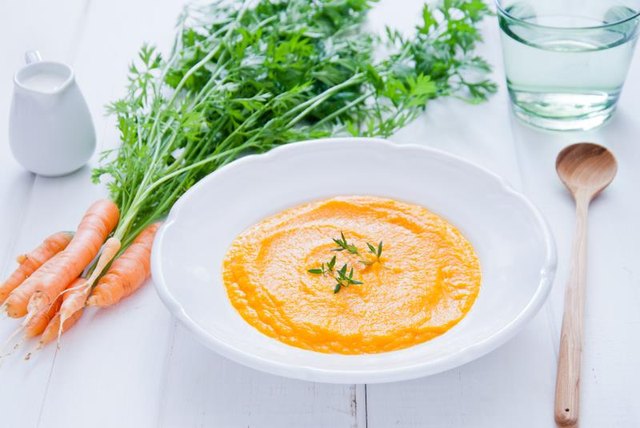 Things You'll Need
2 pounds carrots, washed, peeled and roughly chopped
2 stalks celery, roughly chopped
2 cloves garlic, minced
1 small onion, chopped
1/4 cup fresh turmeric OR 2 tablespoons dried turmeric
2 tablespoon coconut oil
3 cups no-sodium chicken or vegetable broth
1 cup coconut milk
Salt and pepper, to taste
Directions
Step 1
Heat the coconut oil in a large soup pot over medium-high heat. When heated, add the onions and saute until translucent, 3 to 4 minutes. Add the garlic and half the turmeric and cook until fragrant, about 1 minute.
Step 2
Add the carrots and celery and cook an additional 5 minutes.
Step 3
Pour the broth and coconut milk into the pot. Bring to a boil and allow to simmer until the carrots soften, 20 to 25 minutes.
Step 4
Remove from heat and stir in the remaining turmeric.
Step 5
Blend the soup (either in small batches in a blender, or using an immersion blender). Season to taste and serve immediately, or set in the fridge to chill before serving.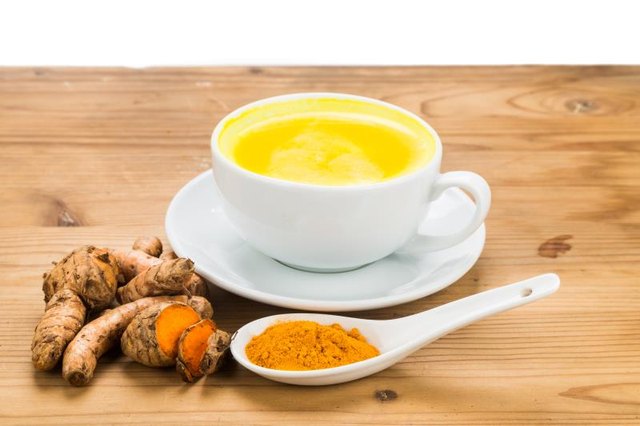 Golden Milk
This nourishing and easy-to-make milk helps you start your day strong; or since it's naturally caffeine-free, it also works as a comforting nightcap.
Things You'll Need
2 tablespoons fresh grated turmeric OR 1 tablespoon dried turmeric
1 cup coconut milk, or unsweetened almond milk
1 tablespoon honey or maple syrup
1 tablespoon fresh ginger, sliced (optional)
Directions:
Add all ingredients to a small saucepan and heat, over medium heat, until just about to boil. Set aside to steep for 15 minutes, strain to remove the turmeric and ginger solids and serve immediately. If you want a sweeter drink, add a few drops of liquid stevia.