When I'm styling a party, one of my favorite parts is decorating the focal wall and its surroundings. When you're hosting, you want to draw your guests to certain parts of the party. In this case, the hostess wanted to brighten up her white wall to compliment the dessert bar.
With a small budget and only 24 hours of planning, I created two one-of-a-kind 'conversation pieces' that are not only easy and fun to make, but can be used down the road. The frame will be used later on to decorate the baby's nursery and the wishing tree full of baby cards will make a wonderful keepsake that will be cherished for years to come.
Things You'll Need
2 Pieces of primed wood casing/moulding
1- 1/4" piece of plywood board
1- 12oz can of spray paint
Miter saw
Carpenter's wood glue
Wrapping paper
Tape glider
Staple Gun
Sawtooth hanger kit
Hammer
1 Bunch of willow branches
1 Tall glass vase
Hot Glue Gun
1 - 1/8" ribbon spool
Mini cardstock cards
Mini Clothespins
Scissors
Ruler
Scrapbooking findings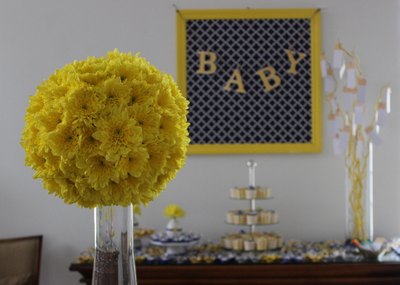 Build the Frame
Step 1
Lay the moulding on top of a piece of scrap cardboard or painter's drop cloth. With a back and forth motion, apply an even coat of paint over the entire piece. Don't forget to shake the spray paint can before using it and be careful not to overspray. If it is not perfectly covered, wait the recommended time before spraying a second coat. I painted a second coat on both pieces of casing.
Step 2
Once the moulding has completely dried (about 24 hours) and is easy to handle, proceed with cutting the frame. Using a miter saw, place the casing on a 45 degree angle and cut 4 pieces at the desired length for the frame. I made a 30" square frames, so it was important to cut each casing to the exact same length. From there, use the miter saw to cut the plywood piece that will be used as the backing of your frame.
Step 3
Using carpenter's wood glue, attach each 45-degree-angle-end to each other and let the glue dry completely.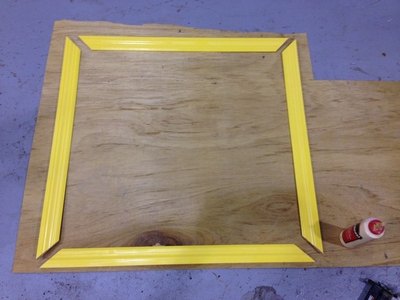 Step 4
Roll the tape glider along the length or width of your piece of plywood. When using thin tape like the one shown in the image below, glide a line approximately every 1.5 inches. Lay the plywood tape-side down on your wrapping paper, cut the ends and wrap. Spray adhesive would work great here too, but I personally prefer the cleanliness of the tape glider.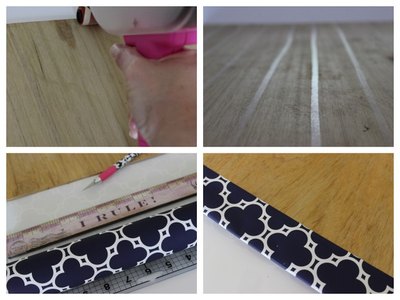 Step 5
Once you have wrapped the plywood, lay it down on the back of the frame and attach the pieces using a staple gun. Secure the corners first and then proceed to add as many staples as you think it might need until it is completely secured.
Step 6
Turn the frame over and find the center of the top of the frame. With a hammer, nail down the saw tooth hanger. Congratulations! Your frame is done!
Step 7
Decorate your frame using scrapbooking finds such as alphabet letters, ribbon, twine, clothespins, etc. I used mini wooden clothespins to spell the word BABY on a piece of twine and attached it to the frame corners with hot glue. For a fun twist, hang newborn-sized onesies. Have fun decorating!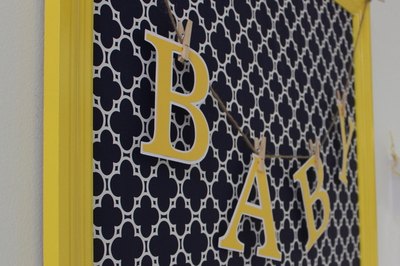 Wishes For Baby Tree
Step 1
Lay willow branches on a piece of cardstock and spray paint it using the same method used when spraying the moulding. Branches can be tricky to paint, so make sure you get an even coverage.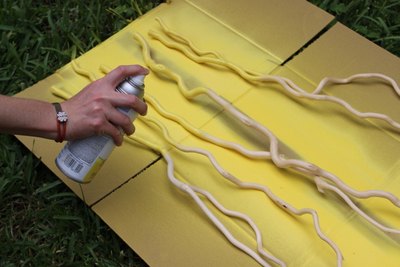 Step 2
Cut small pieces (around 2" long) of the 1/8" ribbon and attach them to the branches using little dots of hot glue. Using mini wood clothespins, attach a small card to each ribbon, letting them hang vertically. Attach one card per guests and place the branches inside a tall vase.
Step 3
The day of the party, ask your guests to write a wish for the baby and hang their card on the tree. This is not only a great alternative to a guest book, but you're going to love reading these wishes in the years to come!